Medical Art Prosthetics, LLC began as a modest sole proprietorship introducing a new way to provide facial and body prosthetics in the United States. Beginning in 1985 the practice which became Medical Art Prosthetics proved to the established American medical and dental community that a new higher standard of accurate and life-like prosthetics results could be provided from the hands of clinically-trained medical artists focusing their skills in their own lone-standing private facilities.
Today the Medical Art Prosthetics team boasts a nationally prominent network dedicated to craniofacial, ocular, somatic and extremity prosthetics that restore anatomy with uncompromising life-like realism. 2 main clinics; near Dallas,Texas and in Madison, Wisconsin are unprecedented in establishing a reputation entirely on the merits of craniofacial and hand prosthetic outcomes that attract patients from throughout the world. Patients may also elect to be seen and treated in Illinois, California, New York, and Florida. Our team of anaplastologists and prosthetist provides rehabilitative services that maximize functionality and promote well-being by creating user-friendly prostheses of unbelievable accuracy and faithful, patient-specific anatomical detail. We develop treatment plans to maximize each patient's success with their prosthesis. Our nationwide network allows us to create partnerships with new Vistafix implant surgeons, and with all types of physicians, employers, payors and case managers which help us to achieve optimal patient outcomes in a cost-effective manner.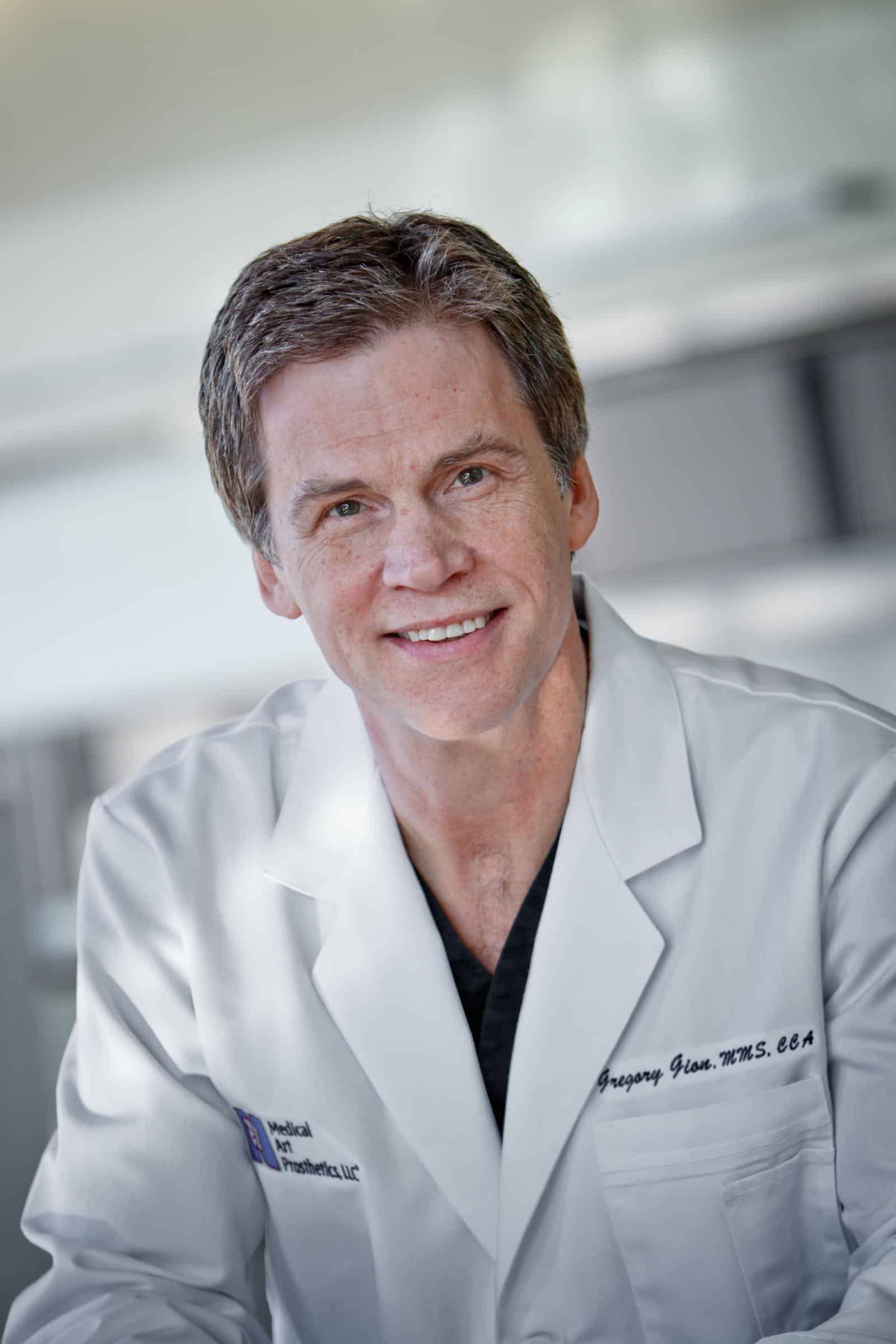 The Medical Art Prosthetics Clinic – Madison, Wisconsin
*BOC Accredited Facility
7818 Big Sky Drive, Suite 111
Madison, WI 53719
(608) 833-7002 phone
(608) 833-7090 fax
Gregory Gion, MMS, CCA, BOCP
Anaplastologist / Prosthetist
Gregory Gion, MMS, CCA, BOCP, a Madison, Wisconsin native earned a Bachelor of Arts degree from Northern Illinois University as a Talented Student Art Scholar and a Bachelor of Science degree in Biocommunication Arts from The University of Illinois Medical Center in Chicago. His clinical training in facial prosthetics occurred as part of the Medical Art Prosthetics (MAP) program at UIC where he remained on staff in the Maxillofacial Prosthetics Clinic.
While in Chicago he developed a facial prosthetics service for Northwestern Memorial Hospital Dental Center in 1981. Mr. Gion served as facial prosthetist in both clinics for 3 years and an additional year in Maxillofacial Prosthetics at the University of Texas Health Science Center at San Antonio before opening a private practice office in Dallas in 1985.
Mr. Gion has presented on prosthetics topics to anaplastologists, surgeons, nurses, prosthodontists and parents of children with microtia. He is published in peer reviewed journals and has contributed chapters in prosthetics and surgical texts. He has received appointments as adjunct faculty in the Graduate School of Biomedical Sciences and volunteer clinical instructor in the Division of Oral and Maxillofacial Surgery at The University of Texas Southwestern Medical Center in Dallas.
In 2005 Mr. Gion opened The Medical Art Prosthetics Clinic in his hometown to serve Madison and Milwaukee. He has also established a satellite anaplastology service for Chicago and a Vistafix Craniofacial Prosthetic Service for Loyola University Medical Center near Chicago. Mr. Gion holds additional certification and licensure in extremity prosthetics for advanced hand restoration options, and he currently serves as a director of WSOPP, a Wisconsin prosthetic society. Greg and his wife Terry Gion, DNP, a clinical nurse specialist at The University of Wisconsin have two children, Alexander and Anna.
Click here to view Professional Involvement and Curriculum Vitae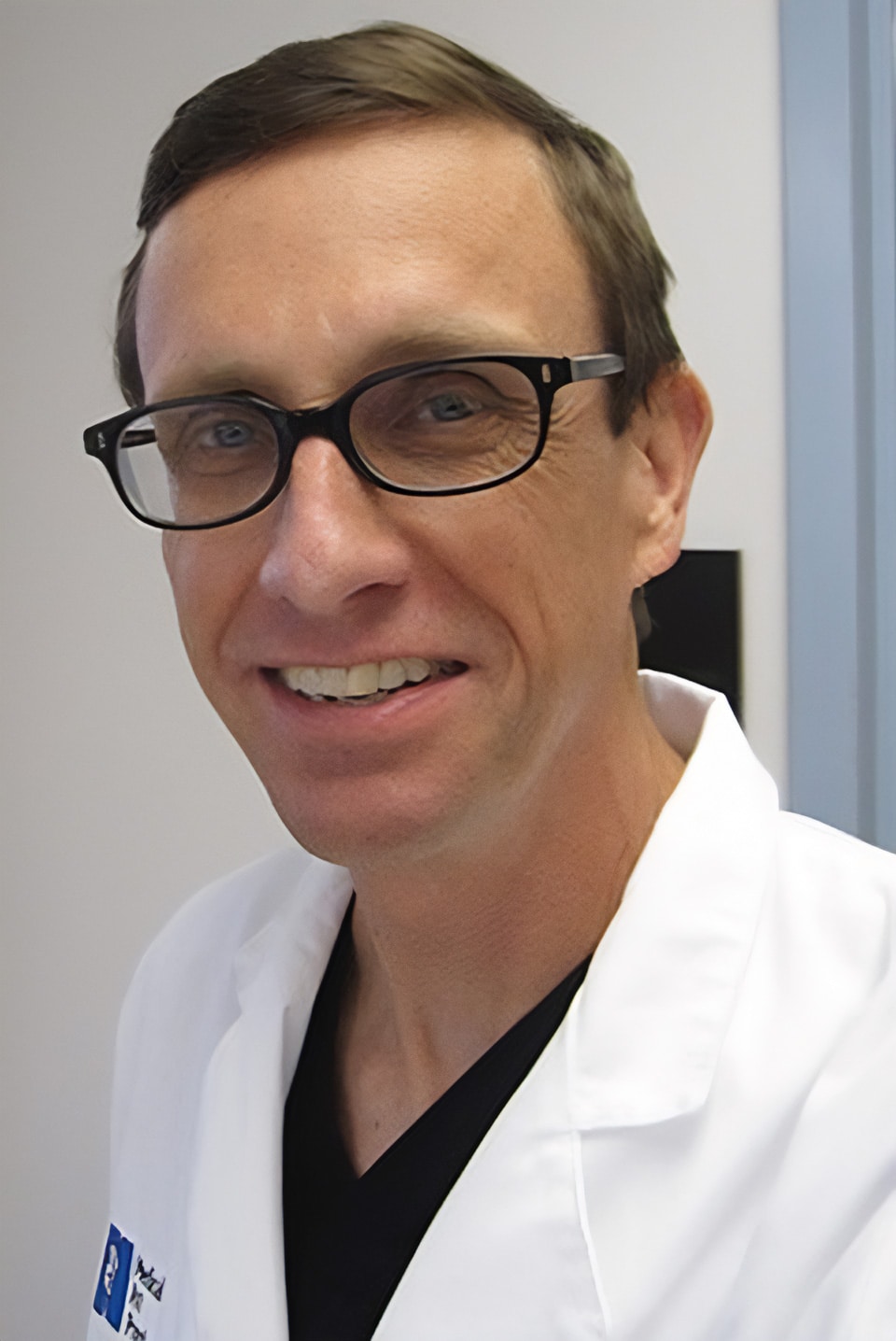 The Medical Art Prosthetics Clinic – Madison, WI
*BOC Accredited Facility
570 N. Rossmore Avenue #508
Los Angeles, CA 90004
(877) 242-7951 phone
James Hogue, MA, CCA
Medical Artist / Anaplastologist
James Hogue, MA, CCA, completed his clinical anaplastology training and board certification while on staff in the Madison, Wisconsin facility. Jim has since relocated to Los Angeles, California to help Medical Art Prosthetics provide needed services across the country. To his practice Jim brings years of experience in digital imaging, biomedical science, anaplastology, and prosthetics – not to mention a distinguished and valuable career in the related field of prosthetic special effects. Jim becomes not only an excellent resource for west coast patients but to our team of anaplastologists who share techniques for all our patients benefit.
Jim is an enormously talented artist who is an award-winning medical illustrator and a special effects sculptor/painter with many important films to his credit. These accomplishments are evidence of perhaps the most important ingredient in the provision of truly effective and life-like facial prostheses; a high degree of visual acuity and an abundance of natural artistic talent!
Jim holds a Master of Arts degree in Biomedical Communications from the University of Texas Southwestern Medical Center in Dallas where he also studied prosthetics materials. His training and experience in clinical facial anaplastology has occurred in maxillofacial prosthetics settings at the University of Minnesota, The Mayo Clinic and Aesthetic Prosthetics of California. Jim also served as consultant to a specialty silicone prosthetics firm in Sweden.
Medical Artist / Anaplastologist
Shay Kilby, MS received her Bachelor of Arts degree from San Francisco State University in 2007. Her Master of Science degree was earned in 2009 from the University of Illinois at Chicago Graduate School of Biomedical Visualization where she pursued a dual Masters track in Anaplastology and Medical Animation. Her research included acquisition of 3D anatomical data in clinical settings. In addition to her role as Vice President of Global Marketing and Strategic Alliances at Fovia, Inc.
Her most recent 3D animations, which are on display at various museums around the world and created with Fovia's software, help scientists visualize and better understand mummies and their artifacts. In animations and teaching she specializes in visually communicating complex medical processes, anatomical pathologies, and neural communication pathways.
Her current area of research in medical imaging is 3D Printing. She enjoys finding the endless connections between 3D imaging and prosthetics. She now resides in the Tampa Bay area and when she isn't working in Medical Imaging or Anaplastology, she spends her time wandering around the nearby AT trail with her dogs, co-facilitating a Siblings of the Mentally ill group for NAMI and working in disaster recovery when she can.
Todd Kubon, BA, MAMS, CCA
Medical Artist / Anaplastologist
Todd has published and lectured internationally on facial and body prosthetics and twice has won the Judson C. Hickey Scientific Writing Competition sponsored by the Journal of Prosthetic Dentistry. Todd was named the recipient of the 2004 Professional Community Service Award by AboutFace International for his support to people with facial differences. Todd has also won the audience choice award for best overall presentation at the International Anaplastology Association.
Todd's research interests address psychosocial outcomes in prosthetic rehabilitation. Todd was the first Anaplastologist in his field to design and publish a clinical trial on women's issues in health regarding outcomes with custom breast prosthetics. Todd is always seeking new opportunities to learn and is currently seeking a degree in Engineering Design Technology.
Samantha North, BFA, CMF
Medical Artist / Anaplastologist
Samantha North received her Bachelor of Fine Arts degree in painting from the Savannah College of Art and Design in 2012.  She was then accepted into the Clinical Anaplastology Training Program at Johns Hopkins University School of Medicine/Art as Applied to Medicine.  From an international pool of highly talented applicants only one individual is selected per year to receive this unique intensive training in Clinical Anaplastology from Johns Hopkins.
Following her academic and clinical studies Samantha moved to Belgium where she joined a team of anaplastologists practicing comprehensive anaplastology for an orthopedic company.  Over the course of four years Samantha mastered the art of creating facial prosthetics with the aid of advanced 3D technology.  She also developed her own protocol for creating hand and finger prosthetics, this becoming her focus along with ophthalmic (ocular) prostheses.
Samantha has established a treatment location near Antwerp, Belgium to serve patients from the UK and across Europe.  She may also be available for appointments in the New York City/New Jersey area during future trips to her home in the USA. Samantha also creates highly accurate custom silicone breast prosthetics which she provides as a Certified Mastectomy Fitter. Besides anaplastology, her other passion is traveling.  You can find her exploring new locations or painting in her spare time.
McKenzie Bergenback, MS 
Medical Artist / Anaplastologist
McKenzie Bergenback received her Bachelor of Arts degree in Drawing and Painting with Medical Emphasis from Carson-Newman University in 2012. Her Master of Science degree was earned in 2015 from the University of Illinois Chicago in Biomedical Visualization where she pursued a dual Masters track in Anaplastology. Her research included acquisition of 3D anatomical data in clinical settings. In her free time she enjoys graphic design and painting, any book by Brenè Brown, hiking in the mountains of Chattanooga, and the occasional triathlon.
McKenzie Bergenback, MS, newly established in Chattanooga, TN now offers her experience creating all types of craniofacial prosthetics and lifelike silicone restorations to clients in this previously underserved area of the country. Mrs. Bergenback's experience in 3D modeling, digital technologies and her clinical experience creating adhesive- and implant-retained ear prostheses, nasal and midfacial prostheses as well as orbital/oculofacial prosthetics will complete the vitally needed team of patient, anaplastologist, and referring physician. With Mrs. Bergenback as part of the national MAP network and her experience with the Vistafix Craniofacial Attachment System patients and surgeons will benefit from streamlined treatment planning, more prosthetic options, and optimized outcomes.
Maddie Singer, BFA, BA 
Medical Artist / Anaplastologist
Maddie Singer BFA, BA is a graduate of the New York University Tisch School of the Arts. Maddie completed her education with the degrees Bachelor of Fine Arts and a Bachelor of Arts in 1990, before starting her career as an award-winning Special Effects Artist in Los Angeles. She became an innovator in silicone technology in the film industry, introducing two products that remain popular today.
Maddie did her clinical training in Anaplastology at the University of Tennessee Health Science Center in the Department of Advanced Prosthodontics, while working as an Adjunct Professor of Sculpture at the Memphis College of Art. She eventually became an Instructor and The Director of Anaplastology at UT in 2010-2018. During her time on faculty, she also worked with the Veterans Administration Medical Center as well as St Jude Hospital. Maddie was awarded a grant in 2016 for her "Maskless Strapless CPAP" device. Maddie was presented an award of "Excellence" by her department in 2018 for her work with patients and the community, as well as being featured on local and national news for her philanthropic work throughout the 18 years she had been practicing Anaplastology in Tennessee. Maddie took a job as the Clinical Anaplastologist for Roswell Cancer Center, Department of Oral Oncology in 2019 until joining Medical Art Prosthetics Clinics and Anaplastologists in 2022.
An important note to all referring physicians
Silicone facial prostheses are attempted by various clinicians and technicians, but truly faithful anatomical renditions – the kind that make patients happy – are only possible in the hands of practitioners with a balance of the right temperament, training and natural artistic talent. All of our masters-prepared practitioners have proven artistic skills, specialty prosthetics clinical training and a willingness to take the time both in the lab and with the patient that is necessary to deliver truly successful and aesthetic restorations. I hope you will provide us with an opportunity to demonstrate our skill and earn your confidence for patients who can benefit wherever they live.