Highest Standards for Your Patients
The Medical Art Prosthetics Clinic continues in its 4th decade setting the highest standards of excellence in cranial and extraoral maxillofacial prosthetics as well as aesthetic silicone restorations for the entire body. Ocular, orbital, nasal, auricular, hand and foot prostheses are created with such individualized care and precision that patients travel from around the world for the unbelievable results we are known for.
Specializing to the degree we have for as long as we have is unique in the United States, yet this is how we have achieved the results seen in this website. And this is why so many medical and surgical specialists from around the country continue to entrust us with the privilege of their referrals. Speak with our anaplastologists or prosthetist today.
Referral and Education Outreach to Physicians
We would like to help contribute to the education of physicians, nurses and others directly involved with decisions regarding referral and treatment. We are happy to present slide shows at your national conferences or provide in-services at your clinic or institution. Please call Greg Gion, MMS, CCA in Madison, WI to discuss.
We also have a library of DVDs and printed materials on various prosthetic interventions that we will be happy to assemble and send to your office. We ask that requests come from physicians only. Please call 877-242-7951.
To initiate a referral, obtain answers to your questions or schedule an appointment for your patient, please feel free to call us directly.
Your patient may also call us directly to schedule an appointment or obtain general information.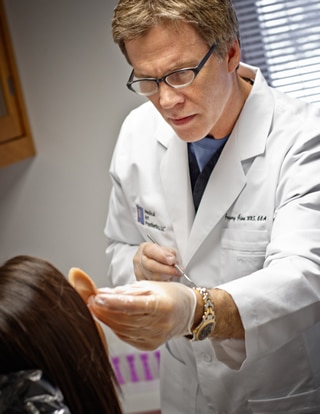 Vistafix Implant Surgeons
Surgeons who have placed Vistafix implants in collaboration with Gregory G. Gion, MMS, CCA, BOCP and the team of Medical Art Prosthetics.
Professional Testimonials
Maxillofacial Prosthodontics
"Greg is a miracle worker who has given many patients their lives back. It is a great comfort knowing that he is there to provide life-like artistic prostheses."
– Bruce M. Barbash, D.D.S.
"Mr. Gion has done a remarkable job with my patients and is my first choice for patients needing nasal and midfacial prosthetic reconstruction."
– Robert Sinard, M.D. Department of Otolaryngology University of Texas Southwestern Medical Center
Oral & Maxillofacial Surgery
"Greg Gion is a pure perfectionist in his effort to create prosthetic ears, eyes, noses, and other missing parts of the face. His outcomes are unsurpassed! He clearly has special talent and has applied it to help many children and adults who have the unfortunate loss of a facial part. I have worked with Greg for several years and can attest to his superb skills and caring approach to his patients."
– Douglas Sinn, D.D.S. Professor, Division of Oral & Maxillofacial Surgery University of Texas Southwestern Medical Center
Oculoplastic and Reconstructive Surgery
"Since 1988, I have been referring patients to Greg Gion for orbital prosthetics. He has always succeeded in creating an accurate and user-friendly prosthesis for my patients. The patients as well as myself are pleased with his work and the caring manner in which it is performed."
– James H. Merritt, M.D.
Ear Plastic and Reconstructive Surgery
"Dear Greg… Your work is absolutely tremendous, and I feel that you make the best prosthetic ears I have ever seen. I really appreciate your caring for my many patients during the years… Sincerely Yours"
– Burt Brent, M.D. [World leader in rib graft reconstruction]
Welcome to our Team
Silicone facial prostheses are attempted by various clinicians and technicians, but truly faithful anatomical renditions – the kind that make patients happy – are only possible in the hands of an artistic practitioner with a balance of the right temperament, training and natural talent. Jim Hogue has that rare blend!
We are very excited that Jim has joined Medical Art Prosthetics, LLC. We are also very fortunate that he is near the San Francisco Bay area, and so committed to providing truly successful and aesthetic restorations for our patients. I hope you will welcome Jim, and provide us with an opportunity to demonstrate our skill and earn your confidence so that we can nurture this unique resource for the area.
For Prosthetics Professionals: We invite you to call to 877-242-7951 to discuss ways we might be able to extend our services to you and your patients.