Patient Stories – Ear Prosthetics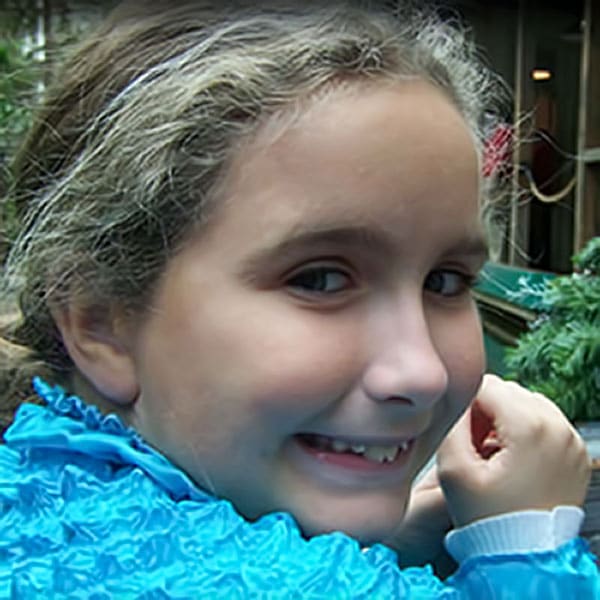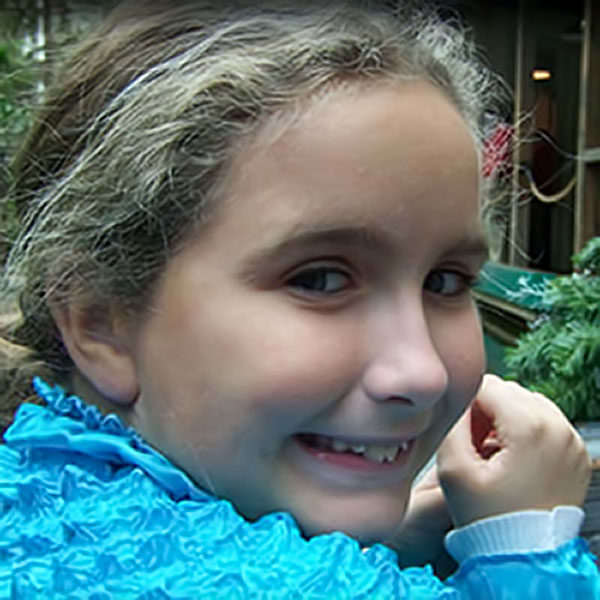 Courtney M. – Mississippi
Hi! My name is Courtney Monroe and I am from Hot Coffee, Mississippi. I am nine years old. I was born without my right ear and my right kidney. I was diagnosed with a form of Goldenhaar Syndrome when I was one month old. I always knew that my ear was different from everyone else's, but I never let that stop me from just being me.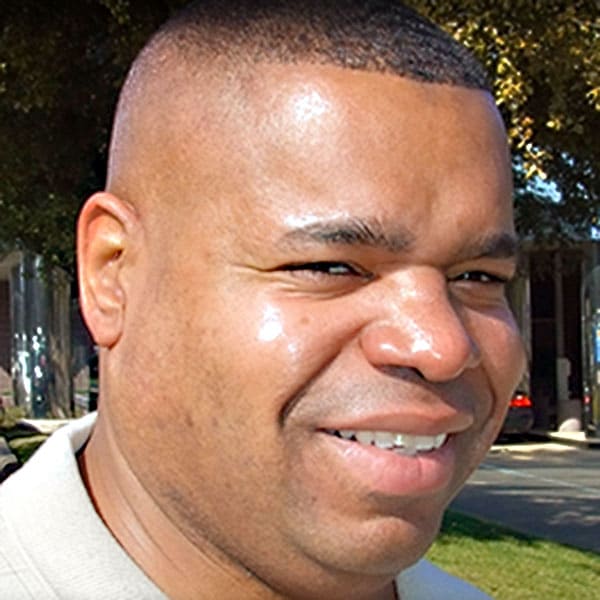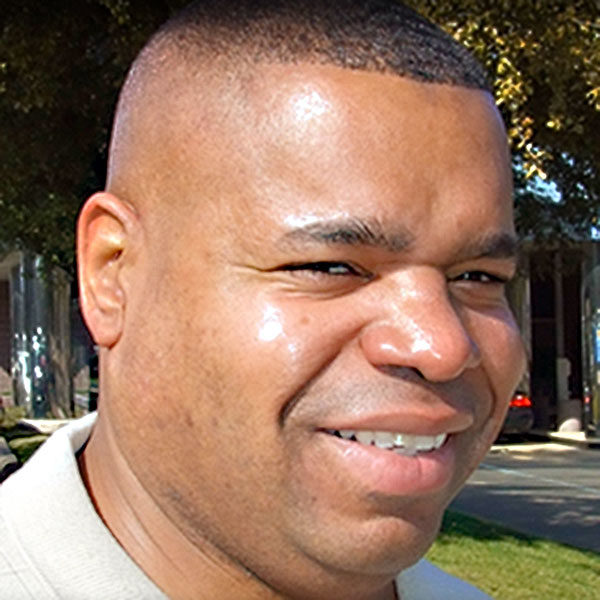 On February 15, 2004, I was in an automobile with my cousin. I was the passenger and had fallen asleep at the time the driver lost control of the vehicle. The accident happened in East Texas where I had been attending two funerals on the day before. I was thrown out of the vehicle through some small trees and one of the limbs snatched my right ear off.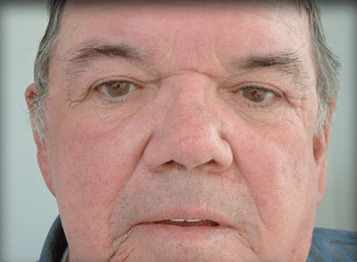 I have had several surgeries to remove a form of skin cancer from the outside of my ear. Eventually it went into the inside of my ear. Since the early nineties, I have had a total of eight surgeries. After several attempts to save my ear it had reached the point that the cancer was taking over and spreading elsewhere. The doctors tried their very best to save my ear, but the cancer kept coming back. Each time it went a little deeper in my ear.
Testimonials – Ear Prosthetics
Billy, Microtia Patient from Pennsylvania
"We are very happy with Billy's new ear. Friends and family couldn't believe how it matches his right ear perfectly. We see a confidence in Billy that we have never seen before. People do not stare anymore. This means the world to us. Billy says that he is very happy. Thanks for all you have done."
– Mother of Billy, Pennsylvania
William previously wore an adhesive type ear from another type of prosthetics company. His new craniofacial surgeon, Dr. Matt Conquest, contacted Greg Gion, MMS, CCA for guidance in ordering and placing the implant fixtures in Pennsylvannia thus forming another interstate surgical-prosthetic collaboration.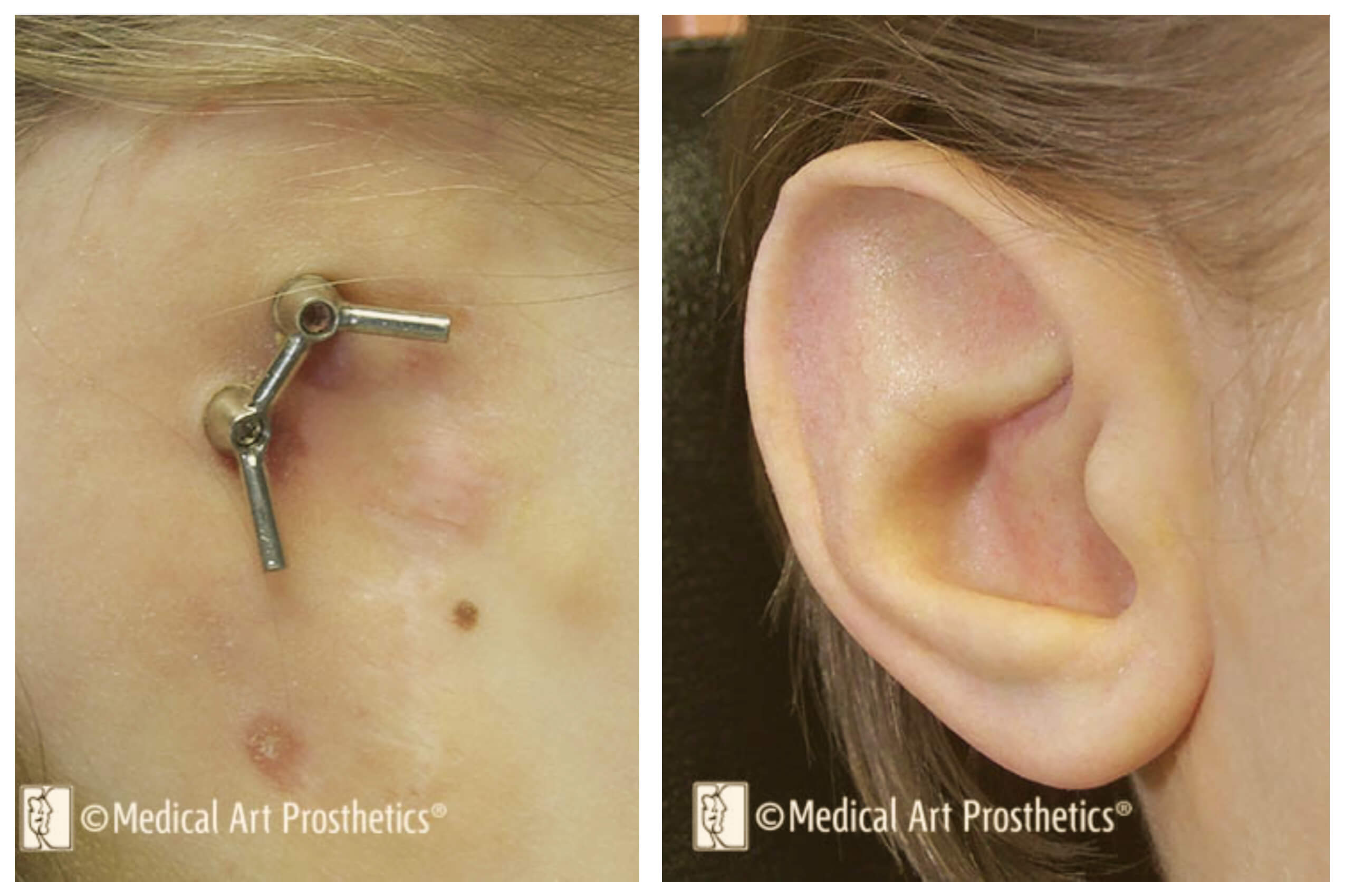 "Mason has really warmed to his prosthesis. He now asks to wear his prosthesis at all times" –Steven W. (Illinois)
Mason was 6 years old when he first received his bar/clip-retained prosthesis from Medical Art Prosthetics in conjunction with Dr. Sam Marzo.
Gabriel, Auricular Patient from Florida
"Hi Mr. Gion- …Just wanted to let you know I received the new ear (you sent) last Tuesday. Looks great, fits and blends well. Can't remember the last time I went a whole day without having to re-adjustJ Thanks for your great work."
–Gabriel B.
Gabriel has developed a sense of confidence in the materials, techniques and predictable "distance- services" developed by Medical Art Prosthetics.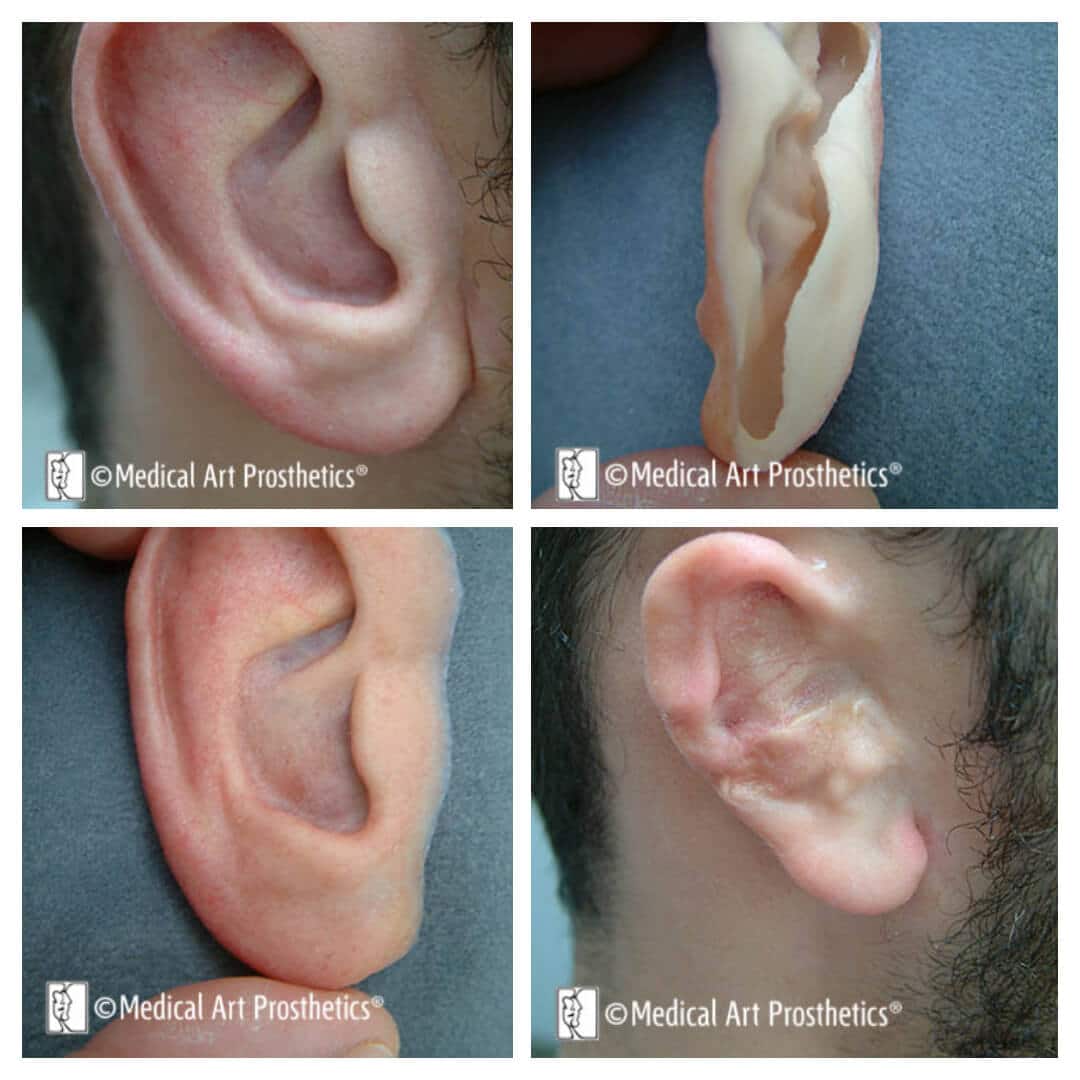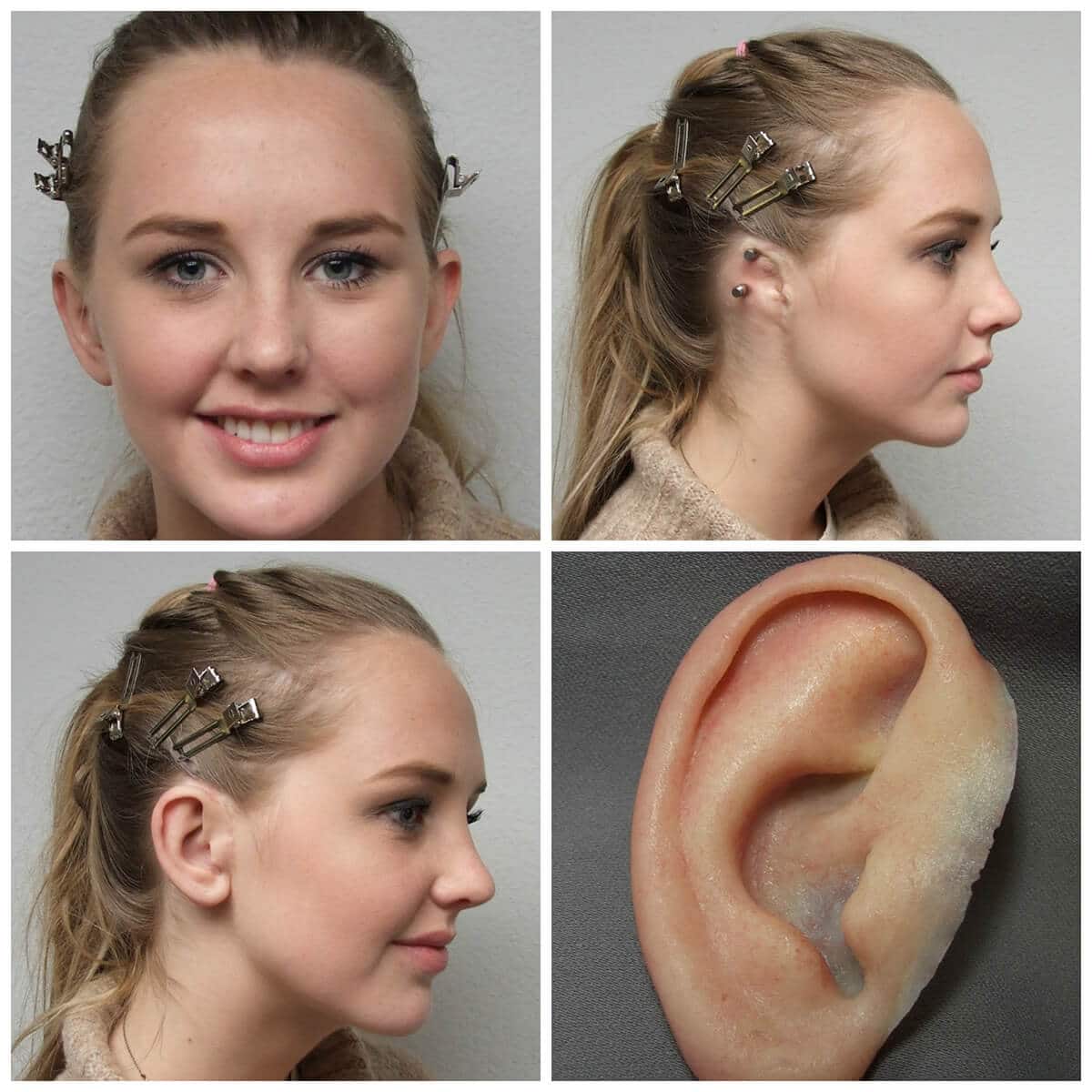 "I'm sorry I haven't sent pictures of Georgia's beautiful ear! She left for college just a couple of weeks after we saw you in San Jose….And said she's happy to be on your website, the ear communities' or any publication you see fit or helpful to others. If we/she needs to sign a waiver please let us know.
It's been a huge gift to be free of worry around complications or struggles with her ear. I cannot express our gratitude.  Honest.
Thanks so much Greg."
– Julie (Mother of Georgia)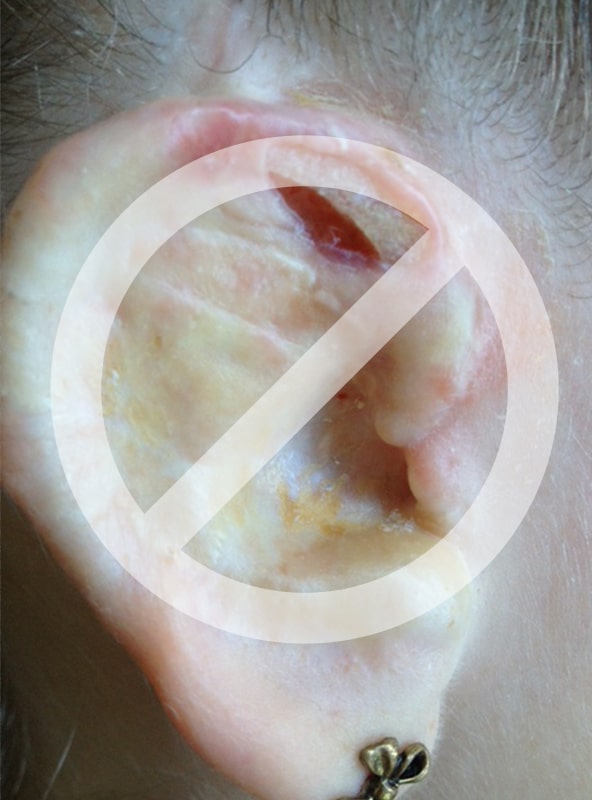 Georgia's previous prosthesis, autologous failure
Chris, Auricular Patient from Ohio
"It's so nice to know the clips won't be breaking anymore. I am so very happy with it".
–Chris K.
Chris had previously struggled to accept the poor durability and aesthetic result of her bar/clip-retained prosthesis provided elsewhere.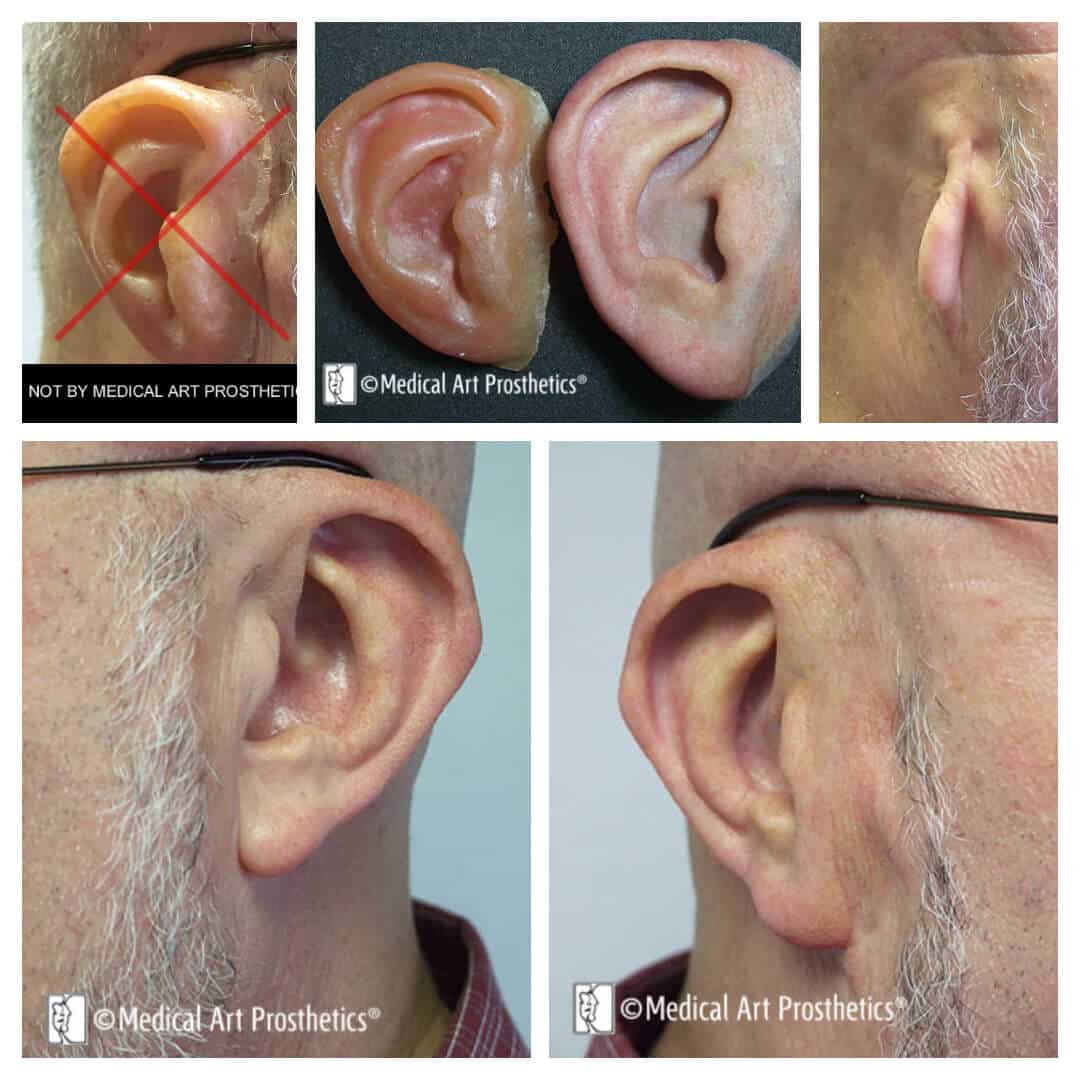 "I have received many favorable comments on the appearance of my new ear prosthesis! You did a great job! I may contact you next Spring to make another one" –Lynn B. (Illinois)
Lynn received an adhesive-retained advanced silicone prosthesis from Medical Art Prosthetics to replace unsatisfactory versions he had received elsewhere for years.
Henry, Implant-Retained Auricular Patient
"Dear Greg, I just wanted to add a personal 'thank you' to all the good you do for me. Notwithstanding the billing you deserve for taking care of me (and presumably all your other patients) the very personal & concerned manner in which you treat me – every time we've met – is invaluable. There is a HUGE psychological component to all this. Having an ear that fits seamlessly and painlessly (and therefore that I can pretend is my own ear) is very precious to me. Thank you."
–HF
Henry wears an implant-retained ear prosthesis with fixtures placed by Sam Marzo, M.D. of Chicago, Illinois.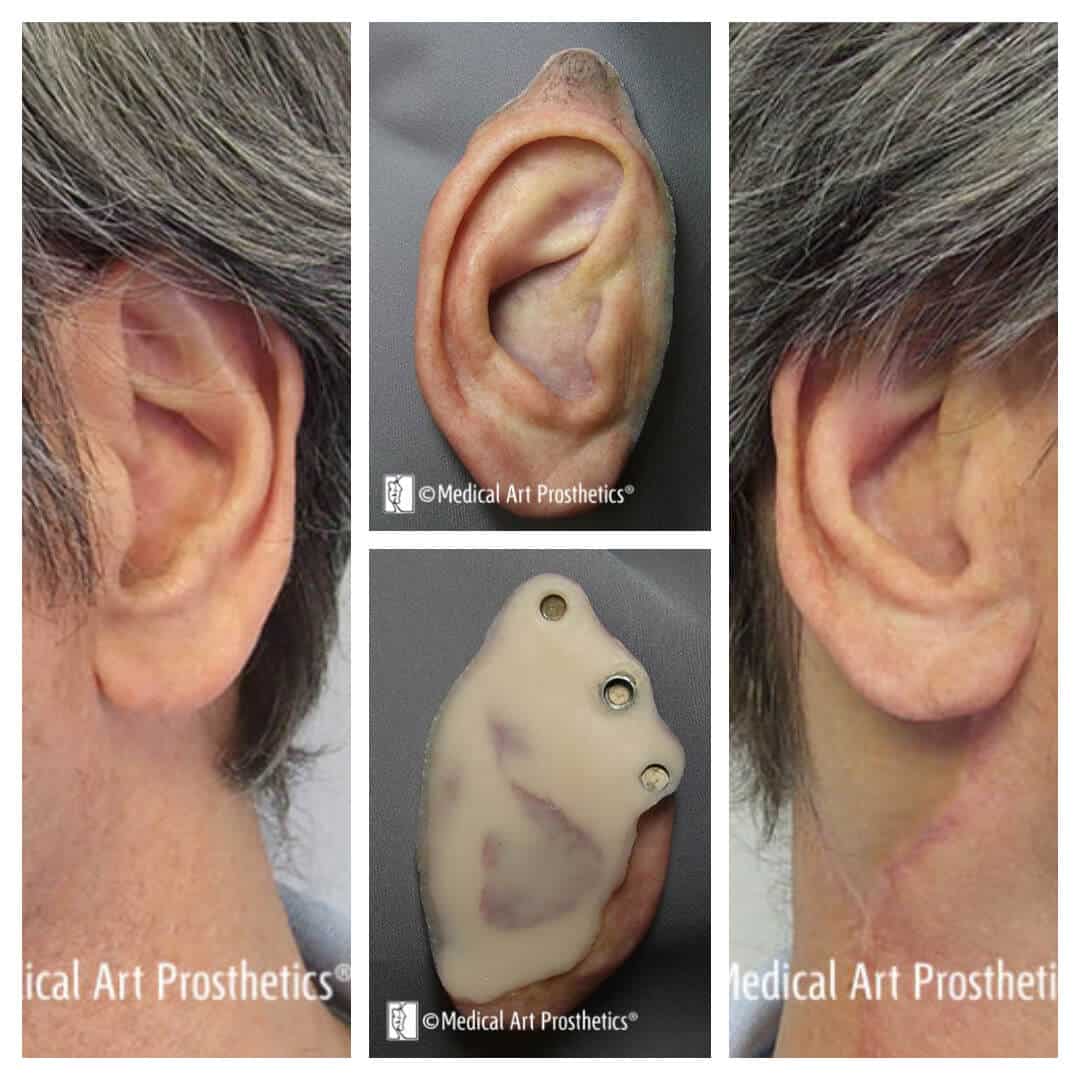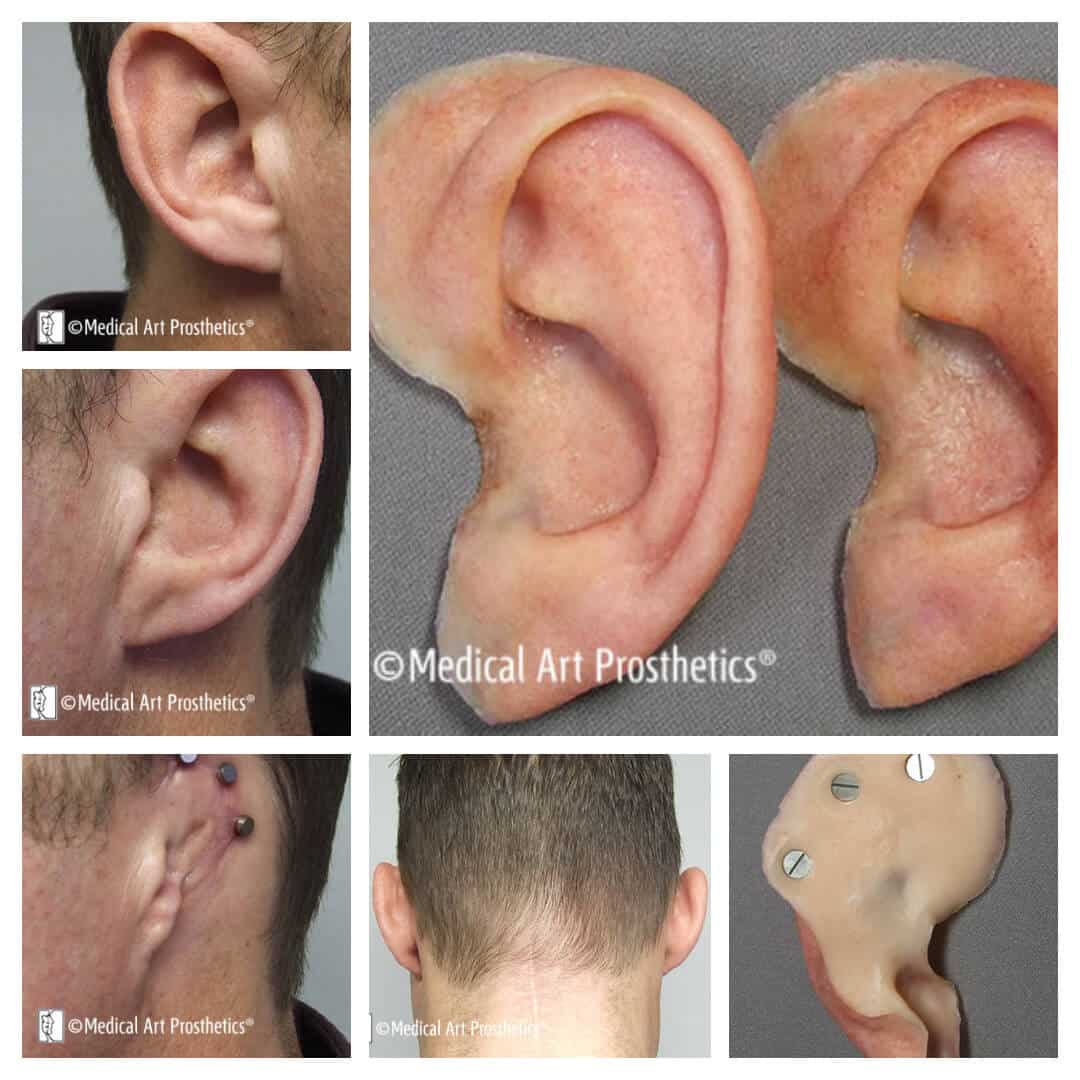 "People are amazed at the work you have done, and unless someone knows I had lost my ear they would never be able to tell. Even those that do know I have a prosthetic ear cannot tell which one is real".
–Michael H. (Wisconsin)
Mike wears a magnetic implant-retained prosthesis created through collaboration between Medical Art Prosthetics and his own surgeon, Dr. Timothy King in Iowa. He also received a "summer-tan" prosthesis.
Buzz, "Slip-over" design Auricular Patient
"I just wanted to let you know that my first week with the ear prosthetic has been wonderful! The fit and look is flawless! My morning routine only takes a few minutes, But the real positive result is in the freedom it gives me, I no longer have to be concerned about where I sit in a restaurant, I no longer worry about first impressions meeting new friends and clients.
Working with you was such a pleasure, I felt a real sense of collaboration, you are a true artist, and a most appreciated perfectionist. Please feel free to give anyone my email if they have any questions."
-Buzz
Buzz returned from South Carolina after a full 5 years for a retinting of his prosthesis and a duplicate prosthesis; A testament to the durability and designs of our prostheses.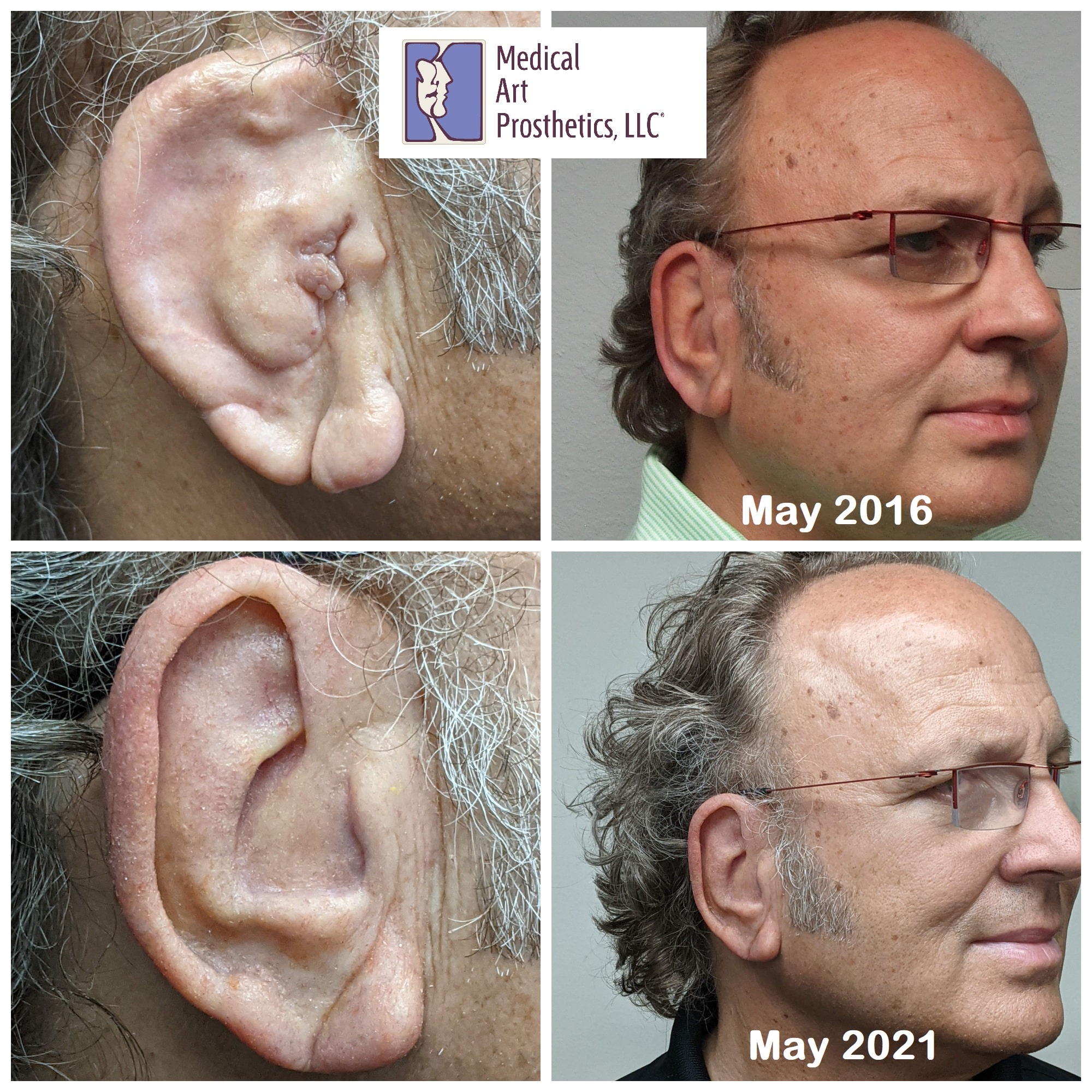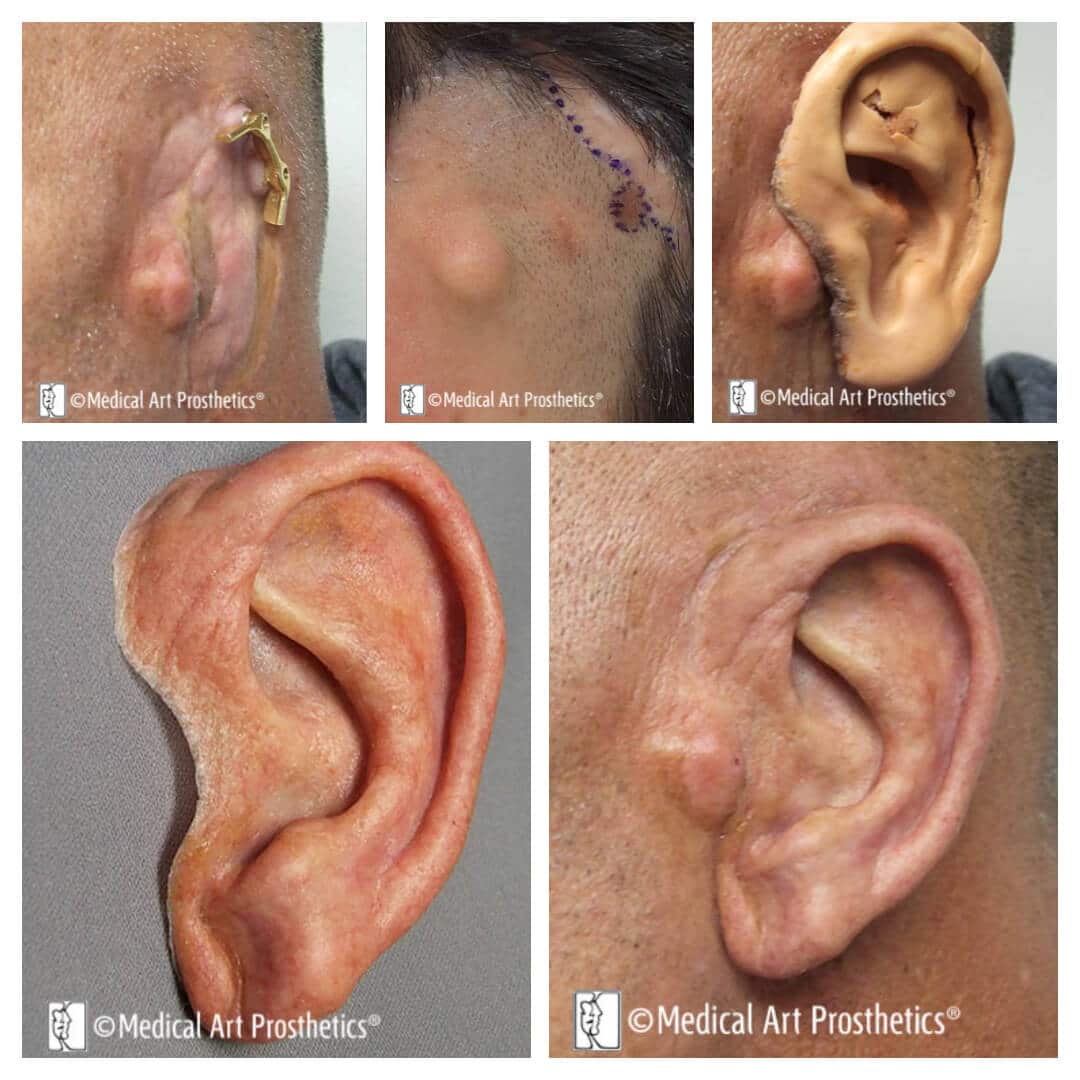 "Thx Greg- [I am] very happy I made the trip (from PA). It was well worth it. [There are] no problems with the fit and the color adjusted perfectly. You do amazing work!" –Anthony T. (Pennsylvania)
Anthony previously received his ear prostheses from a prosthetics company no longer offering facial prosthetics.